TEXTURE

(source)
Many farmhouse kitchens are loaded with texture that reflect the architecture and readily available natural materials. Mix and match natural woods, brick, and tile for a layered approach to design, but give the eye a place to rest visually with simple cabinetry. Look for glazed brick backsplashes or readily available (and budget friendly) subway tile.


(source)
Add contrast to an all-white kitchen with an island in stained wood. A textured rug softens the room.


(source)
This farmhouse kitchen features a coffered ceiling in a quatrefoil design with simple wide subway tiles for the backsplash and vent hood detail. A patterned cement tile floor mirrors the design of the ceiling. The white color scheme keeps the whole space from being visually overwhelming.


(source)
Whitewashed brick feels fresh and updated against a classic stove design with a matching vent hood. Rustic floating shelves feature a collection of simple white dishes and pitchers.


(source)

NATURAL WOODS
Natural wood is making a major comeback in kitchens thanks to a huge influence from Scandinavian homes. Whether it's unfinished shiplap or as a hood detail, there's several ways to incorporate this trend. The key to making this trend modern is the color of the wood. Darker woods or cherry don't have quite the same clean Scandinavian look, so go for whitewashed tones or limed oak.


(source)
Simple shaker-style cabinets keep this room on the modern side, along with industrial accents and lighting.


(source)



COLOR
All white doesn't have to be the only way a farmhouse kitchen can express its style. Color definitely has a place. Blue cabinetry is another trend in the design world that we see in bathrooms and in kitchens and this beautiful chalky grey/blue hue below is one of my favorites. Another vote too for those colorful cement tiles. (Be sure to chat with the manufacturer on what they recommend on sealing to keep your tiles looking great with lots of wear.)


(source)
This gorgeous farmhouse sink is crafted out of the same pale green stone that the countertops are made of. I love that the windowframes are painted in the same hue. Stunning and unexpected.The brass fixtures make it feel luxurious and stately.


(source)
Of course, black cabinets will never go out of style. They make a striking visual statement against white walls and are the perfect match to brass lighting and hardware.


(source)

GREAT LIGHTING
A consistent element to great farmhouse kitchens is industrial-inspired lighting. Look for gooseneck lights (I like Barn Light Electric) or library-inspired articulating sconces in a variety of finishes.


(source)
These large-scale pendants over an island are simple but so beautiful in a modern farmhouse kitchen. The metallic interior makes them glow in such a spectacular way.


(source)


(source)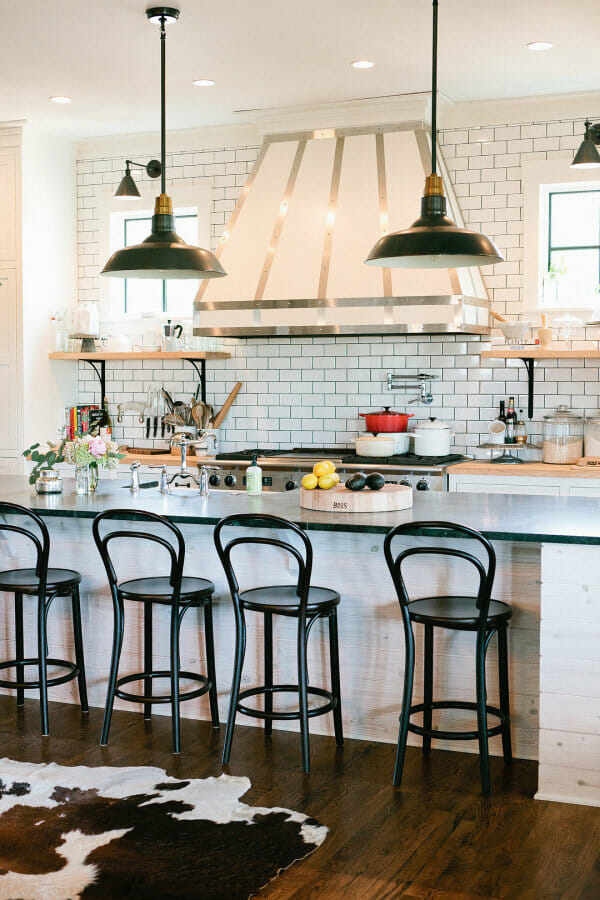 SIMPLICITY
Regardless of the overall aesthetic, farmhouse kitchens can be counted on to be simple and unfussy.


(source)






(source)
Include natural items in your decor like wooden bowls or greenery cut from your garden.


(source)
Thoughtful details like a shelf for this farmhouse sink make a room feel intentional and well designed.



(source)]]>