Editor's note: Hello, Carlton Landing friends! I'm Rachel Shingleton and I'm excited to be a new contributor to the CL blog. My husband Simon and I live in Oklahoma City full time but have owned our home on the Boardwalk since May of 2014. Along with our two sons, we enjoy spending our weekends hanging out on our front porch there and roaming around the town. I write the design and decor website Pencil Shavings Studio where I chat about all things color and style. I'm happy to announce that I'll be contributing regular content to the Carlton Landing site twice a month so if you've got questions on paint colors or what to do with your porch, I can get you taken care of!
Outdoor living is a major element to life at the lake and the homes at Carlton Landing are designed with this in mind. Broad, sunny porches beckon to wile away the summer hours in between dips in the pool or the lake and screened in porches provide shelter from insects as the months progress. Whether you use your porch as an extension of your living room, a playroom for kiddos, or to entertain guests, these images have plenty of inspiration to prep your porch for the upcoming warmer months.
Front porch swings are so popular right now, and for good reason. There's nothing dreamier than wiling away a few hours with a good book while surrounded by comfy pillows. Porch swings come in a variety of styles, but the daybed style is a great way to maximize the amount of seating you can get.


Rattan swings are also a major outdoor trend right now. With a certain amount of bohemian charm, they come in single and double seat versions like this one on the front porch at Blair & Maggie Humphreys' home in Carlton Landing.


Mix and match your front porch with different styles of outdoor furniture, but keep it consistent with a common color scheme. This porch below features several different pieces of furniture but it remains cohesive thanks to the black and white color scheme. (image source)


Outdoor drapes provide drama and style on this Southern Living home's porch. Potted plants and trees provide a pop of color.


Speaking of color, consider a bold front door color to bring a big dose of personality to your front porch. It's a great way to experiment with bolder hues without making a major commitment.


So much great style in this house via Coastal Living. With double porches, there's plenty of room for all the guests to enjoy the outdoors. Double up on the porch swings or outdoor sofas and don't forget the lighting like this beautiful home below. Fans are also a great option to keep the air moving in the summer heat.


Paint your porch ceiling a contrasting color for visual interest like this lovely blue and orange space below (source). Homes in the south frequently feature sky blue-painted ceilings – bonus points if you know the back story behind this tradition.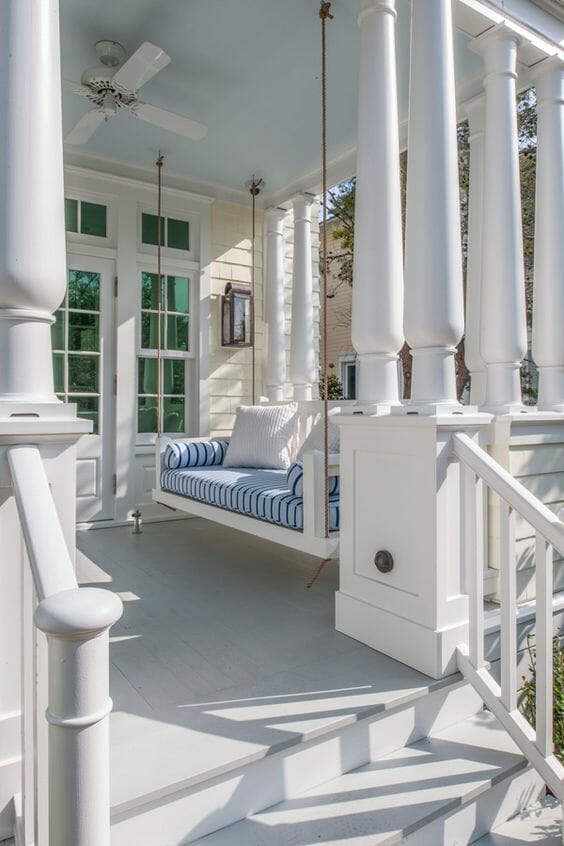 Create different zones on your porch – a lounge area is great for entertaining guests and a fold-up bistro set is a great solution for overflow seating. It's easy to fold up and store, but also easily transportable in case you need to move it elsewhere. (source)


Inspired yet? I'm ready to dust off our outdoor furniture and clean off the porch. Summer is here!]]>