DECORATING WITH FLAGS
Decorating with flags for the fourth of July is an obvious choice, but there's several ways to shake it up and make it fresh. This enormous American flag hangs prominently in a stylish, country-chic living room. Natural wood accents offer a rustic nod while still maintaining a casual atmosphere.

(source)
A boy's bedroom gets a patriotic nod with a framed flag over the upholstered bedroom.


(source)
A fun take on a bunk room with 3 twin sized beds in this paneled bedroom. The large vintage flag is a great way to bring in character and charm to this cottage.


(source)
A simple farmhouse dining room gets a pop of color thanks to the flag pinned over the wainscoting.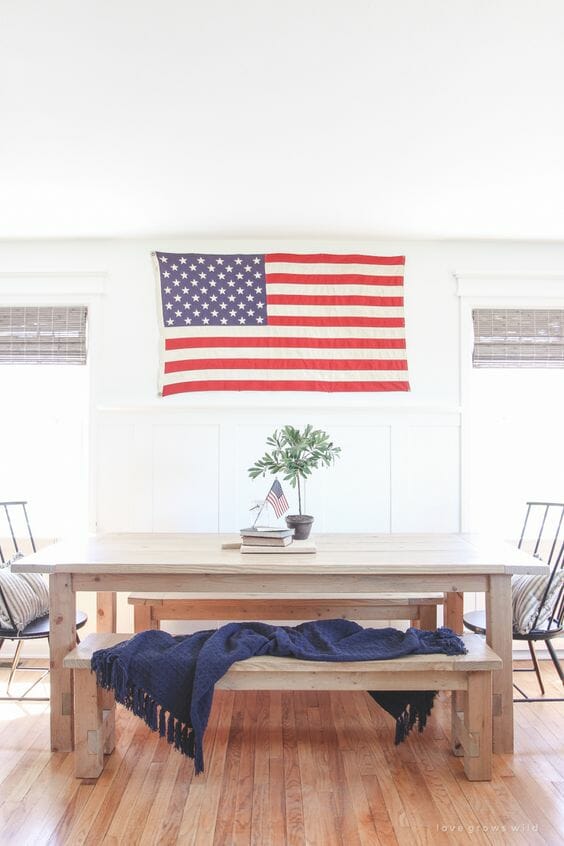 (source)
Another fun bunk room, complete with patriotic bedding. I love the additional textures, like the rag rug and the natural sisal carpet. This look could easily be switched up for any season thanks to the white walls and natural tones.


(source)
PATRIOTIC PATIOS & PORCHES
Get your porch and patio spiffed up in time to sip sweet tea & eat watermelon. Patriotic banners and swags are a charming and classic way to decorate for the holiday weekend.


(source)
These patriotic banners double as outdoor curtains in a pinch.


(source)
Happy pops of red, white and blue against a rustic farmhouse backdrop.



(source)
This American flag is layered over a tobacco basket for added texture. This would make a great family photo backdrop.


(source)


(source)
A pretty blue ribbon wreath for the front door —


(source)
RED WHITE & BLUE FOREVER
If you prefer your decor to be less thematic, go for patriotic overtones by using red, white and blue colors throughout your space. Nautical accents make this bedroom feel not overtly patriotic but still fresh thanks to all the white.


(source)
Blue and white is a classic combination that never goes out of style. Add a few red throw pillows to the mix for that Americana spin.

(source)
Vintage rugs in a red, white, and blue colorscheme can be a great way to introduce color and texture into an all white room. The theme is continued on in the mismatched throw pillows.

Don't feel locked into using bold versions of red and blue. A pale blue pairs beautifully with creamy walls and a red star quilt in this lake house bedroom below.

(source)

Happy decorating! I can't wait to see how we prepare for the coming holiday weekend in Carlton Landing.
SaveSave
SaveSave]]>